Our Invitation to Bid feature lets you invite companies to bid or quote on your own private project or any project in our platform. This powerful option gives you the option of inviting contractors from our BidCentral directory of 10,000+ contractors, or from your own address book, and keeps track of responses and activities. Please note that if you would like to use this feature, you will need a Premium or Enterprise account. Plus, you will need to let us know to activate this in your account by contacting us and requesting this option.
Your invitations are only visible to you and the companies that you invite. No one else on the platform can view who you have invited.
To get started, view your project (either your own private project or one from our plan-room). Be sure to Follow your project so you can easily find it on your Dashboard. Next, click on Invite to Bid button on the top right.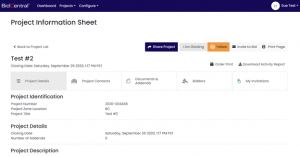 You will see the following options:
Use a list I have already created: This will be a list of contacts that you have saved from a previous Invitation to Bid project.
Search for companies by service region or category: With this feature, you can search through the BidCentral directory for contractors/suppliers by different criteria. Tip: Click on Advanced Search to broaden your search.
Invite bidders from a previous project: This feature will work for privately created projects. If you have created a project, and invited contacts, you will be able to pull that list here.
Use an address book I have already setup: You can upload your own Address Book under the Configure option in the top left menu. Once you have uploaded one or many, you can select it here.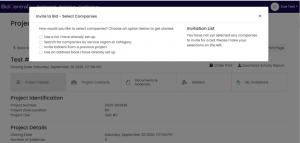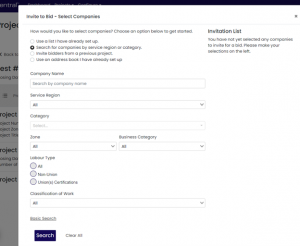 After selecting your contacts, you will be shown a draft of your email with options to add cc or bcc, or to insert the specific Trades name into the body of the email or edit the information in the email. You will then be able to Preview the email before sending.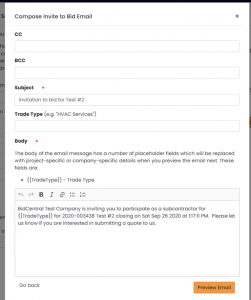 Next, you can Preview your email. This is what will be sent to your contacts. They will have the option of Yes, we will submit a quote or No, we will not submit a quote.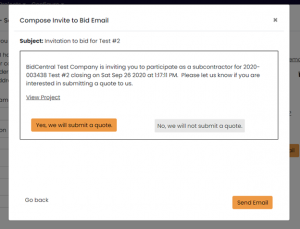 Once they click on either button, you will receive a confirmation email and your My Invitations column in that project will display the names of your contacts, along with their response and an option to "Remind" them.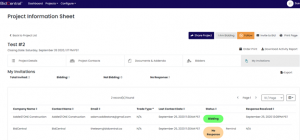 https://www.bidcentral.ca/wp-content/uploads/2019/04/bidcentral_logo.png
0
0
Tom Gogela
https://www.bidcentral.ca/wp-content/uploads/2019/04/bidcentral_logo.png
Tom Gogela
2021-04-19 16:18:59
2021-04-19 17:33:53
Invitation to Bid